When they told you there is culture,there is tradition . Give to ceasar what belong to ceasar that what the Bible says.
Now this DPO has digged his own grave,it happens that Ogun State Police Command through intelligence report in Ibaara area of the State Capital,
Abeokuta has apprehended and remanded in custody a masquerade for disobeying the state government restriction order of more 25 people gathering in the state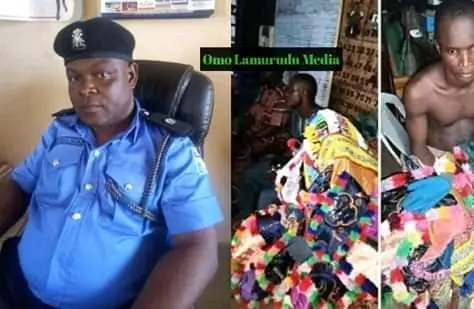 Preliminary reports indicates that the masquerade was arrested by men of the Ibaara Police Station for allegedly threaten to deal with the Police operatives who came to enforce the order and disperse the gathering of his followers in ijeja àrea of the state
The masquerade guy was arrested on Sunday following complaints lodged by members of the public that some people had gathered in their hundreds celebrating their egungun festival
DSP Oyeyemi, further disclosed that upon report from the members of the public the policemen attached to the Ibaara division mobilised to the scene and warned the people to disperse as the masquerade threatened to deal with them if they proceed on dispersing his followers
However, the masquerade was hereby arrested and given a severe warning to avoid any form of convergence at the moment before he was released to a reliable surety
But after he was released shortly that is when his death was annouced today.
Many people reacted on this on Facebook