Earning/working Online is a global desire. Many people especially those who work in the IT sector are working from home. It simply means home-based work is possible due to the Internet.
The internet today is filled with many money making platforms, sometime ago it was almost impossible to make money online but this days, making money online is as simple as eating a bar of chocolates. by performing simple tasks like downloading apps, taking surveys, inviting friends and watching videos you can make money on this platform.
Welcome to our website Azibase.com in this Fiverr reviews, discover all about Fiverr , whether it's real or fake. Know about referral bonus and so on. We decided to go through through this platform Fiverr we shall see how it works.
Making money online with or without investment isn't that easy, because there are many scams websites out there. So we should always check online reviews before jumping into a platform.
Fiverr is an online marketplace where you can buy and sell freelance services.
It provides a global platform for freelancers to make money online using their skills.
And It is popular for providing freelance services starting at a price of just $5.
You may be thinking:
Wait..what? Only $5?
Let me tell you something!
You can sell any services you can imagine at just $5 but think about it, there are millions of people looking for services every day on Fiverr.
If you can get even 10 orders a day, that's $1500 per month.
That's a nice sum of income. right?
In fact, people are making a living on Fiverr. So can you.
You can even learn to make money with Facebook pages.
Let's learn more about Fiverr.
How does Fiverr work?
Freelancers are called sellers on Fiverr and they can offer their services by creating a gig with a title, description, and a thumbnail.
People who require freelance services can buy the services provided by the freelancers on the platform.
Fiverr also takes a 20% cut from your earnings for connecting the freelancers to the people who need their services.
Who Owns Fiverr?
Fiverr was founded by Shai Wininger and Micha Kaufman on February 1, 2010.
How to Start Selling on Fiverr?
You need to create an account before you can start selling your services on Fiverr.
You will need a working email address and a phone number to create an account on Fiverr.
How To Create An Account On Fiverr?
Creating an account on Fiverr is very easy. If you have no idea to create an account on Fiverr, then I've mentioned the process in simple steps below:
First, Go to Fiverr.com, then click on the "Join" button.
Enter your Email Address or Sign up using Facebook / Google.
Then, Choose your Username & Password.
You need to provide your qualifications & choose the skills that best describes you.
You need to connect your social media profiles with Fiverr which will increase your legitimacy on the platform.
Boom! You are ready!
Pro Tip: Always fill in your correct information and put a real picture of yourself on the profile.
People like to know who they are buying the service from and it makes them feel more secure when you have a real picture.
On top of that add a nice bio or intro to your profile.
These small details will increase your legitimacy, as a result, Your chances of getting orders becomes high compared to people who don't have a legit picture & a bio.
Now that you are ready to create your first gig, let's learn how to do it.
How to Create a Gig on Fiverr?
Creating a gig on Fiverr is like a piece of cake. You will be up & running to sell your services in a few minutes.
If your account is new & below Level 1, you can list up to 7 Gigs on Fiverr.
And this limitation makes sense because anyone can create a new account and literally spam Fiverr with thousands of low-quality gigs.
So if you are limited to 7 gigs only, you can promote a few gigs and take your time to increase the quality of the service and provide good customer support.
So, let's learn how to create your first gig:
1. Check out the Navigation bar and click on the 'Selling' then on 'Gigs'.
2. That will bring you to the 'Gigs' page where you can create, edit, and delete gigs.
You can also check the performance of the gigs. And to create a gig simply click on the 'Create A New Gig' button.

3. Then you will see a page similar to the image below.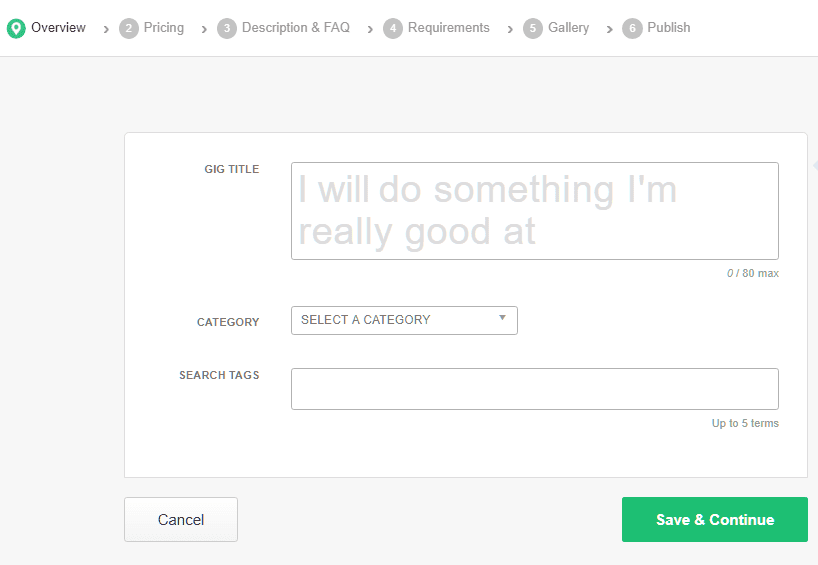 Creating a Perfect Gig Title:
Fiverr lets you write the gig title in just 80 letters, so make sure you choose it wisely.
Don't forget to include your keyword on the gig title.
For example: If you are providing a Logo Design service on Fiverr. It makes sense to use the "Logo Design" keyword on the title to be able to get found when someone searches for a Logo Design gig.
Select a Category:
Select a category that best describes your service.
For example:- If you are creating a 'Logo design service', you can choose a category like Graphics & Designs, then a sub-category of 'Logo Design'.
Choosing the right category will help to get your gig found by people who are looking for it.
Then, you have to select a service type. The service type is like extra details about your gig.
Search Tags
Search tags help your gig to get discovered on Fiverr search results. You can use up to 5 search tags like 'Logo Designs', 'Graphics Design', and so on. Always use search tags that are related to your service
Pricing
In the pricing tab, you have to set a price for your Gig.
Best Part?
Fiverr allows you to create 3 packages:- Basic, Standard & Premium.
And you can adjust the price according to the extra features and value you are providing on each package.
For example:- You can create a basic package with one logo design and 1 revision
Then you can provide 2 logo designs with 3 revisions in a Standard package.
And likewise, you can create a Premium gig with 5 logo designs and unlimited revisions.
Packages help your clients to make a decision on which package becomes beneficial to them.
And you can use packages to upsell your services.
For example, you can add "Social media banners, along with logo design" and increase your price.
Since a new business requires a new logo along with graphics for new social media accounts, packages attract them to pick the best services for them.
Description
When you have an appealing description, you can convince anyone to buy your gig.
People like to read the description of the gig to know what exactly are you offering to them.
So, It's a smart move to include the following things on your Gig Description:-
Share your expertise and experience in the industry.
Include all the features and value you are providing in your gig.
Put your main keyword at the start and end of the description for optimizing it for Fiverr Search results. But try to keep it natural.
Include a money-back guarantee so they feel secure.
Tell them why you should buy from you. Include all the fancy things that make your gig stand out from the crowd.
Include something like "Waiting for your instructions or Can't wait to work with you" at the end of the description.
This may sound like a stupid idea, but this makes them take action.
Then, you can add frequently asked questions after the Descriptions tab.
FAQs help clients with some curious questions like "Can I use the logo commercially?", "Do I have full rights over the logo you created?"
Normally, people don't have time to ask questions to freelancers and wait for their reply.
But, when you clearly mention all the questions & answers in the FAQs section that will help to solve the curiosity of your potential clients. And as you have already solved their curiosity about the service, they may convert to your client.
And that takes us to the next step!
Requirements:
In this step, you have to mention what instructions or informations you need from your clients to start working on the projects.
When someone buys your gig, they will get a plain text field, where they can write instructions or the information that will help you to accomplish the project.